Area Rugs Guide
An area rug can impact the way a room looks and functions in your home. We consider area rugs an investment into your home because they can protect the flooring underneath, be a comfortable spot for children to sit, and even add a touch of luxury. Plus, an area rug, regardless of style and size, can act as the focal point for an entire room. Customize your home with an area rug from us at Rusmur Carpet One Floor & Home.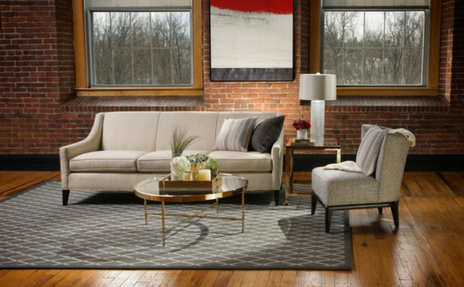 Choosing an Area Rug Style
There are no rules when it comes to choosing an area rug for your home, but we do offer some helpful guidelines for you. Since much of the selection process is based on your own personal taste and sense of style, our guidelines are just a helpful nudge in the right direction. For example, if you are placing an area rug in a room where you frequently entertain guests, buy an area rug that is large enough to place the furniture on it to create and intimate and inviting space for conversation.
Area Rug Tips
When you first get your rug, put a pad underneath it to prevent it from sliding around and to help retain its original appearance.
Vacuum regularly to keep dirt and dust from accumulating, avoiding the fringe while doing so. For reversible rugs, vacuum both sides. If you have pets, use a stiff brush to remove pet hair left behind after vacuuming.
Wash rugs following manufacturer's instructions. Professional cleaning is recommended when a rug has set-in stains or appears dirty.
Quality area rugs with the proper care should last you a very long time - If you have more specific questions regarding the care of your rug, consult the manufacturer.